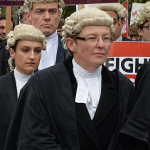 In a Robing Room the other day I was working unashamedly to get my fellow Barristers to join the CBA and to vote in the forthcoming elections. One senior member of the Bar asked me if I was feisty and would I fight the common cause. I asked what he thought was "the common cause". He just looked at me and said "I am too young to retire and too old to learn a new career. And why should I, I am good at and love the one I am in". I made a promise then that I both could, and would be feisty for the cause. I am not a quitter and have been told by many that my Tenacity for my client has won through. I have had clients state that the law is a passion for me which is applied with force and efficacy. If elected, I shall bring the same doggedness to the CBA Exec.
My late father, a Chancery Barrister of 53 years standing, once told me that so long as there were people living there would be a need for compassionate brains to represent them within the legal system. That is as true today as it was in his day. Tomorrow, it may suddenly be far harder than it is now for those most in need to get access to "compassionate brains" rather than a system driven by cost accountants and profit alone, not by client need.
These are times for the Bar which demand both wisdom and extraordinary courage. During my police service in the 1980s I saw the Miners Strike and the death of Kevin Blakelock. I saw families being turned against families. I was witness to people being arrested for merely having a principle. I watched one of my colleagues die after diving off Brighton Pier to assist a drowning child. Today, we all know the criminal justice system is collapsing. Without action within weeks, it will be too late, and the damage which will swiftly follow will take generations to repair. Justice as we have known it in our lifetimes will be history. The Criminal Bar will be history.
What is your cause? Is it merely to keep working? Or is it to save this wonderful, traditional profession, this vocation, which if we are honest, is unlike any other? My cause is to help save it from the very brink and guide it forward. To fight through the current changes. To debate, argue and sort issues out so we can represent ourselves in the battles ahead with the same passion that we have in the Court Room. To do all that is possible to ensure there remains a Vocation as a Barrister for our successors to pursue in the future.
On my way to the practicing Bar, I have been a Solicitor and Solicitor Advocate. I know from both sides how the two professions depend on each other. I opposed "The Deal". I will support action to heal the rift which ensued between us and our Solicitor colleagues. I will support the reintroduction of "No Returns", even though some Solicitors' firms will continue with their contract bids.
Our current fight with the Ministry is existential. If we fail to move the MOJ's agenda from one of destroying lawyers to one of holistic reform to the CJS, all discussion of matters such as warned lists, poor VHCC management, unpaid hearings and unexpensed travel will remain moot.
Beyond what I have said above, I do not offer a grand and cunning plan which will thwart our opponents. There is only one firm commitment I can make at this point – to listen and act in a collegiate manner. I will seek at all times to respect others on the CBA Exec, CBA staff, fellow Barristers, and others fighting to save the Criminal Justice System. This time we will stand together until we win. United we may prevail, disunited we will each fall.
What do I ask of you who read this?
1. First of all, Vote. Read all the manifestos, and pick the people whom you believe will best represent our profession.
2. Support the Executive when the elections are over.
3. Be active in your input to the CBA Executive.
4. Be active in support of any action which is decided upon.
5. Work with the Solicitorial Profession, closely and compassionately. Without solicitors supporting us in our vocations, we will be extinct.
Cathy McCulloch
St Edmund Chambers
www.stedmund.co.uk